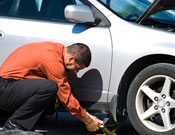 Our professional and courteous drivers respond immediately to calls from troubled motorists. Our crew has the experience and necessary know-how to respond in an efficient manner to a wide variety of automotive dilemmas. Our number one goal is to get you back on the road quickly and safely. From basic roadside assistance to lockout emergencies and more serious long distance towing, your roadside safety is our top priority.
Afforadable Colorado Towing and Roadside Services
Local / Long Distance
Collision Towing
Commercial and Fleet Accounts
Roadside Assistance
First-Response Service
Emergency Services
Accidents
Jump Starts
Lockouts
Tire Changes
Gas Delivery
Winch Outs
Wheel-Lift Towing
Flatbed Towing
We make ourselves available 24/7 to give you a lift and a helping hand. Please call us when you need us. We look forward to helping you.